Vacation Scrapbook
---
Blog
The Michelle Burger Recipe
July 15, 2011
Learn how to make the newest burger on T. Cook's menu, "The Michelle Burger," created by T. Cook's employee Michelle Martinez.
Each year, T. Cook's kitchen staff is challenged to develop their own unique, delicious burger to dazzle Phoenix diners and Royal Palms' guests.  The winner's burger is featured on the T. Cook's lunch menu, the Lounge menu and the Cabana Cafe menu around property for a full year.
This year, we had 16 competitors vying to create the best burger.  The entries were sampled and four finalists were selected: Chris Edwards, Hollie Layman-Sanders, Michelle Martinez and Bret Schuster.  A final panel of judges tasted these four yummy burgers and the winner was selected: Michelle Martinez!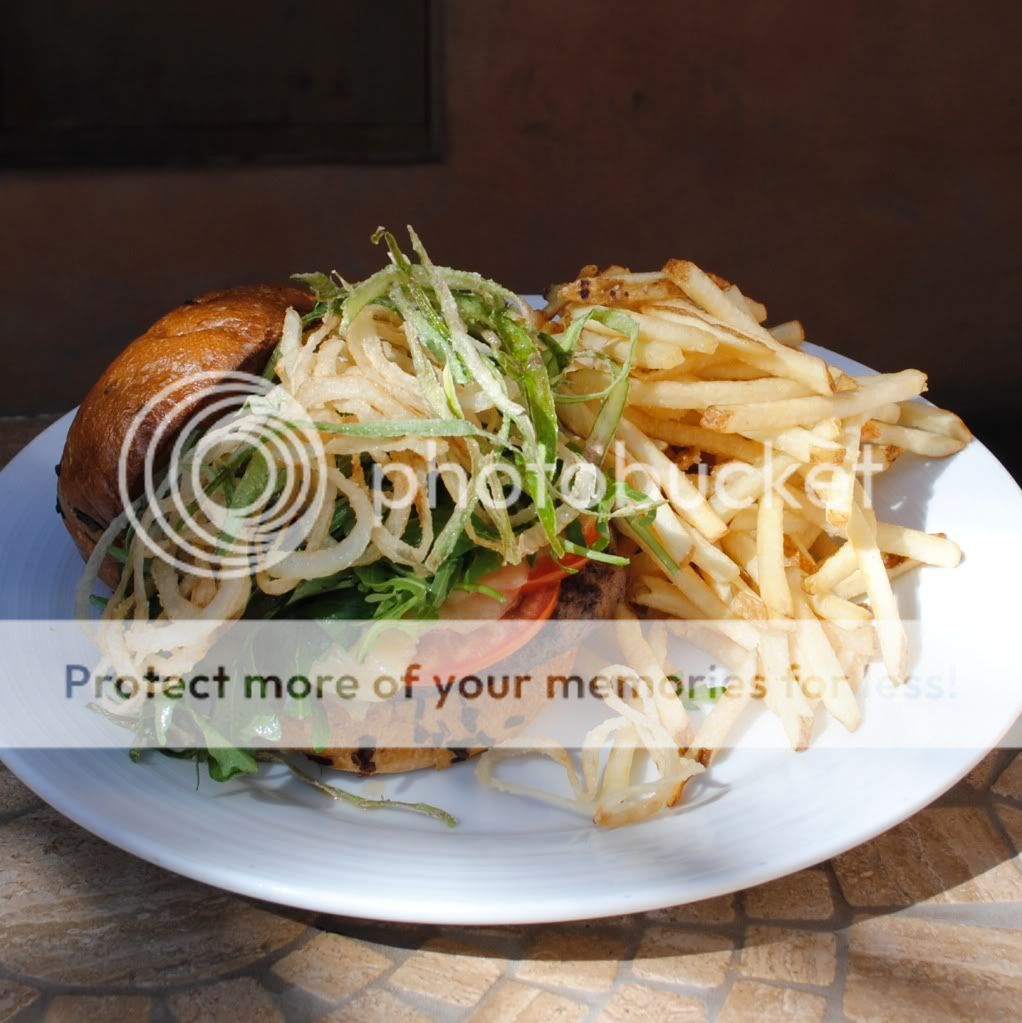 You can make The Michelle Burger at home with these easy steps:
Ingredients
Four onion hamburger buns
Four 10 ounce ground beef patties
1 large tomato, sliced (vine-ripened is best)
1 Cup Sherry vinegar
½ Cup sugar
4 mini sweet chilis (sold in pints at grocery stores)
1 Cup mayonnaise
Arugula
4 ounces Manchego cheese, sliced
1 small yellow onion, sliced very thin
Asparagus
Corn starch
Flour
Frying oil
Salt
Olive oil
Directions
In a pot, heat oil to 350°F.  Take the shaved onions, dredge them in seasoned flour and deep fry.  Drain on paper towels.  Cut asparagus very thinly on a bias.  Dredge in the corn starch and deep fry.  Drain on paper towels.
In a second pot, heat the Sherry and sugar.  Once boiling, add the sliced tomato and then remove the pot from the heat.  Allow tomatoes to steep for approximately 5 minutes.  Remove the tomatoes from the liquid and allow to cool.
Toss the mini sweet chilis in a little oil and salt.  Roast them in a 350°F oven.  Once they are roasted (soft and a little golden brown), remove the tops and purée with the cup of mayonnaise.  Season the roasted sweet chili aioli with a little salt.
Take the arugula and toss it with a little olive oil and salt.  Season the burgers with T. Cook's Spice Rub and then either grill or sear to your liking.
Then, build the burger!  Take the onion bun and spread it with the mini sweet chili aioli.  Take some of the seasoned and dressed arugula and place it on the bottom bun.  Top with the burger patty.  Top the patty with the Sherry tomatoes and melt an ounce of Manchego cheese on top.  Finish the burger with the crispy asparagus and fried onions.  Enjoy!  Serves 4.
Prefer to just have the professionals prepare your Michelle Burger?  Join us for a meal at T. Cook's!  Call 602.808.0766 to reserve your table.
Back to top